First I must credit one of my online heros @commonfarmflowers for inspiring me to complete the first stage of marmalade making:
take photo of ingredients, having put them… on the floor!
Oh the things we do for backgrounds.
She has a swoon-worthy instagram feed and beautiful websiteThe links should take you there.
Back to the marmalade.
Photo taken and posted ✓  Now I need to make some actual marmalade!
Stage 2:
Find a recipe. I loved the look of this one …
Gilly's Pantry low sugar Orange and Grapefruit Marmalade – Kiwi Families
because it used less sugar than usual and the method didn't involve overnight soaking or anything apparently complicated.
Stage 3:
Do the maths to work out quantities based as closely as I could to Gilly's recipe. For this I always grab a pen and the nearest scrap of paper, which I always lose, so can never remember what I actually put in – not any more! Another hidden benefit of blogging.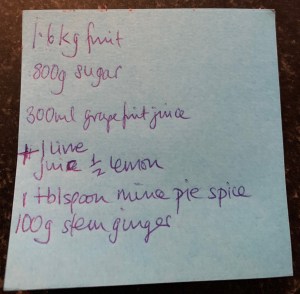 I used 1.6kg oranges, 800g sugar, a lime, juice of a lemon, 300ml grapefruit juice (I have one of these juice squeezer attachments on my food processor so it was super fast to squeeze two ruby grapefruits)
Stage 4:
Go freestyle or not?
On a whim I threw in 100g stem ginger and a tablespoon of my winter spice leftover from mince pie making at Christmas. I would love to be able to include what goes into this mix, but I have lost the paper on which I wrote the quantities (obviously).
I followed the recipe exactly apart from the pith… I was losing the will by then, so I just popped the rindless oranges into the food processor, pith on. Hence the title inspiration which came to me as I was stirring the pan.
Stage 5:
Take more photos along the way.
I forgot to do this.
Stage 6:
et voilà
And, hey presto, after a boil and a simmer (a little too vigorously if I am honest) for 40 mins I found myself potting and sampling some lovely, tangy, festive marmalade. Had to have it for tea it was so delish.
I did the chilled plate test a few times and honestly it did not look wrinkly so, having run out of time, I told myself that orange sauce would be just as lovely….but, to my great surprise, it has set beautifully in the jar.
I am no expert – I have made a few batches of jam, but I think this is my first proper marmalade. I'm certain there will be many marmalade gurus out there far more experienced than me, but it's just lovely to be able to share and thank Gilly for her recipe, and to have had some fun laughing at myself (as I tend to do) along the way.
Stage 7:
Pop a photo out there on the global instaweb!
I'd definitely encourage nervous marmalade makers to give it a go! Here's the original recipe link again ♥
Hope you are enjoying whatever you are doing 🙂 A bientôt